[ad_1]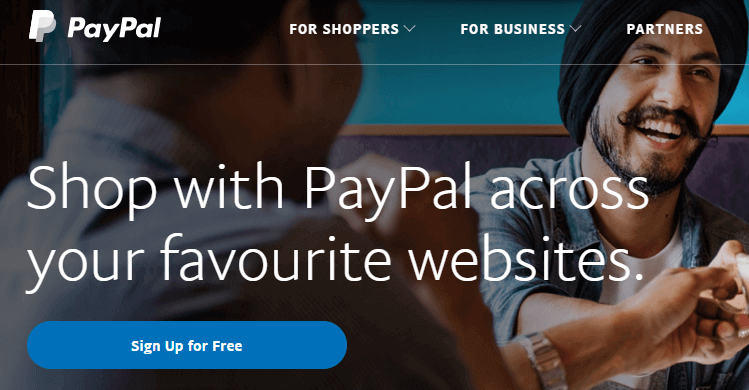 When You want to send and receive money internationally, Paypal is one of the most convenient ways.
Especially if you are an online money maker or freelancer, It's a must-have since most of international sites and businesses use Paypal as preferred payment gateway.
That makes it necessary for us to have a Paypal account.
So in this article, you will learn how to create and verify a Paypal India Account step by step.
What is Paypal?
Paypal is an online money transfer site that allows you to send and receive money all around the world.
Paypal offers its services for both individuals and business with lesser fees.
Since it is secure and convenient, most businesses and customers love to use it.
Here are some of the benefits of using Paypal,
1. It is free and you are not going to pay any fees except the conversion fees.
2. It is fast and secure and you receive your money in your bank within a few days.
3. You can make purchases internationally without revealing your card details and you can also manage all your payments in one place.
4. Paypal is widely accepted so you have it as an option everywhere you go online.
Creating a Paypal account
Creating a Paypal account is a really simple process.
Before you are getting started, make sure you have the following details.
1. PAN Card – The PAN card of the person that wants to create a Paypal account.
2. Bank Account – A Bank account in India with the same name as your PayPal account.
If you don't have a pan card or bank account, use your spouse or parent's details with their permission.
And don't forget to use their name when creating the Paypal account.
Once you have both PAN and Bank account details, go to Paypal.com, then click on the sign-up button,
Next, you need to choose which type of account you are going to use.
For most of us, we are only going to use it for personal purposes like receiving and sending payments so select Individual account.
On the next page, enter your e-mail address and this is what going to be your Paypal ID.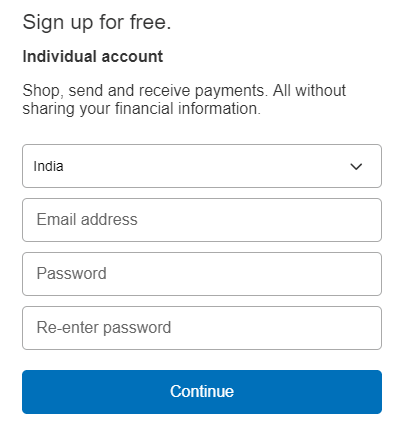 Choose a password and move to the next page.
While entering your name make sure that you are giving the exact name as in PAN card since providing the exact name is really important to verify your account.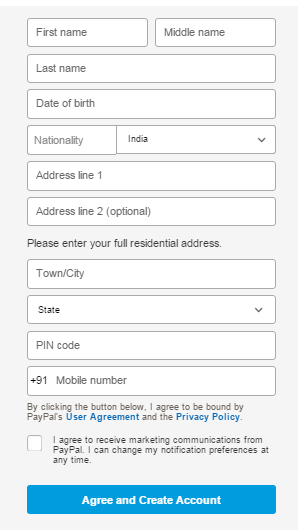 Then fill address, date of birth and mobile number.
Finally, click on the Create Account button.
Now we just created your Paypal account, In the next step, we need to verify some basic information.
Basic details verification
Right after signing up for Paypal, you will receive a verification mail to your registered Email address.
Click on the verification link to verify your mail-id.
Next one is your mobile number, visit your settings page, then click on verify your number link next to your number. After that, you will receive a 6 digit code. enter the code to get verified.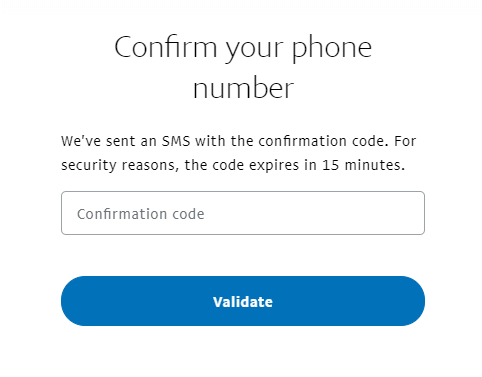 This number is the one you should be using when you are contacting their support team.
After the signing for Paypal, You also receive a notification like this, Click on complete your tasks link.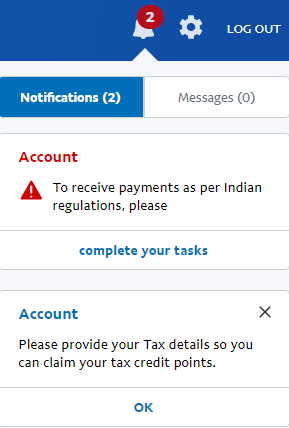 This will lead you to the page where you provide your PAN number. Verify your name then enter the PAN number to add it to your account.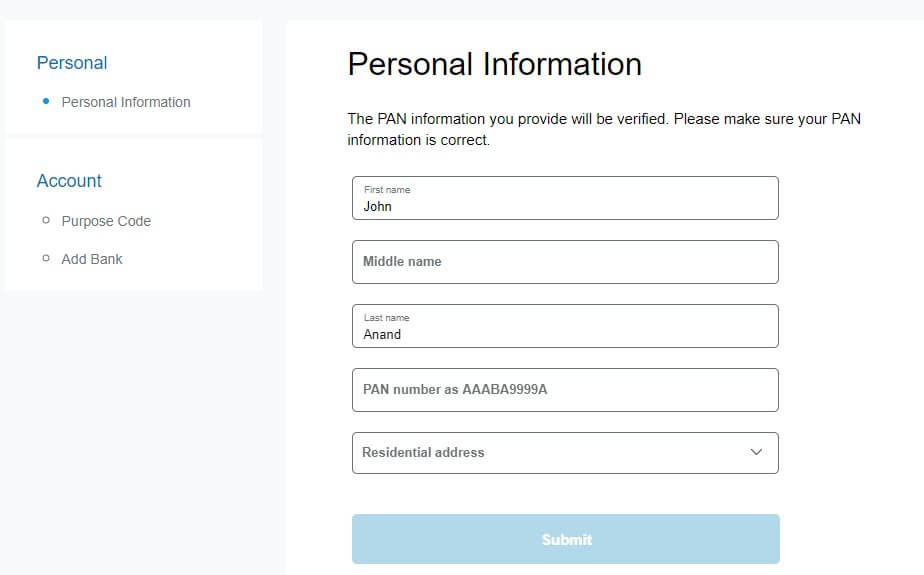 In the same page, you will see a link to purpose code, Click on that and select "Advertising and market research" from the list.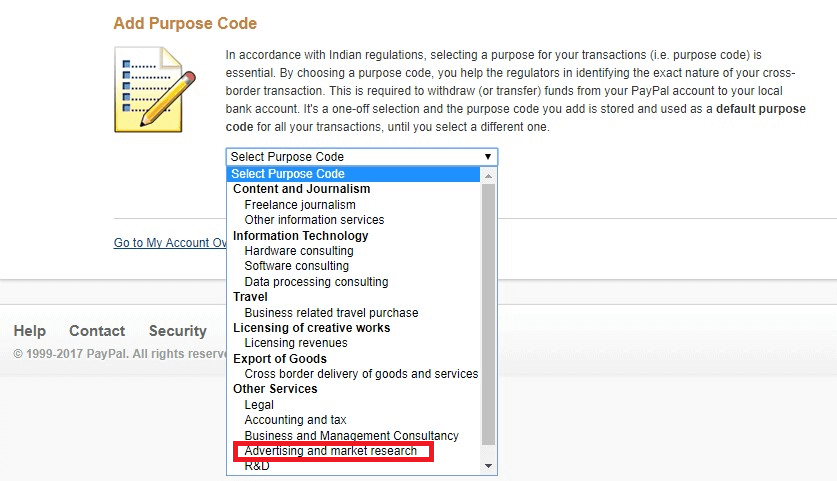 After completing this, we need to jump into the most important part, Adding a bank account.
Connecting Bank account with Paypal
As per RBI laws, Paypal could not hold money on your Paypal account. So PayPal automatically withdraws your funds to your local Bank account right after you receive payment.
Because of that, you must connect a bank account to Paypal.
On the menu, Click on payment methods, then select link a bank account.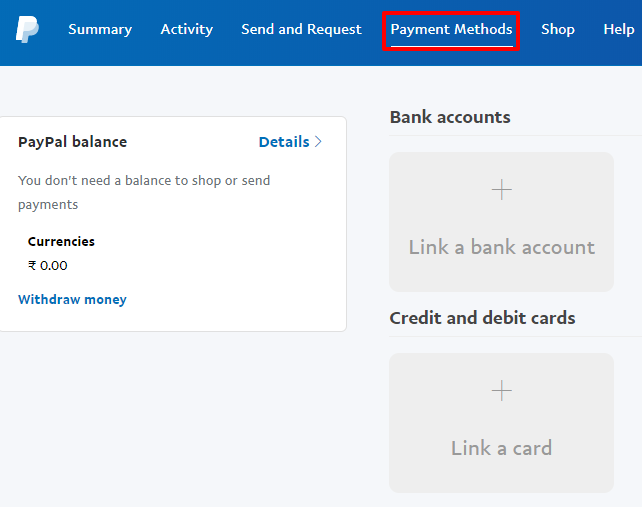 Put your account number and Ifsc code to proceed.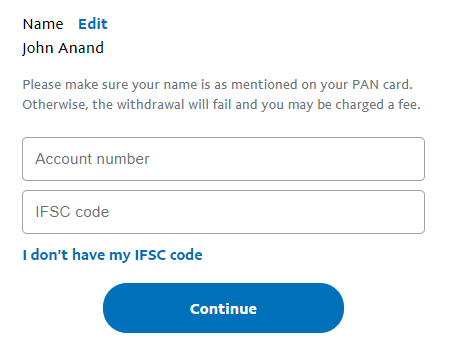 After that, you will receive two small deposits from Paypal to your bank account within 2-5 days.
You need to enter that exact amount on your Paypal account to verify your bank account.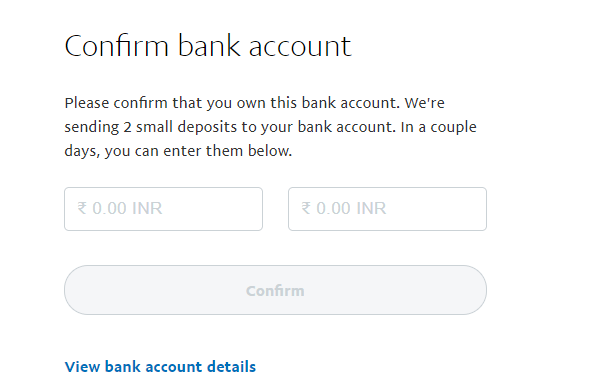 And it will be something like 1.03, 1.06. After entering that you can start to receive funds.
After this, there is one more thing to do, and that is connecting a debit or credit card which is completely optional.
Adding debit or Credit Card
Adding a debit or Credit card is completely optional.
It's only for those of you purchase or make payments internationally.
Having your card attached to Paypal can help make purchases internationally without exposing your card details and also you can manage all your payments in one account.
you can find card attaching option on the payment method page, just below Link a bank account option.
To successfully attach your card to your Paypal account, your card must be enabled for international transactions.
Not all the banks in India are allowing the international transaction, Only a few of them allow international payments.
Debit cards from the following banks are accepted by Paypal,
1. Kotak 811 – Kotak 811 zero balance account let you have an international virtual debit card. It's an easy and convenient option for beginners.
2. State bank of India – Activate international transaction by sending "SWON INTL XXXX" (XXXX stands for the last four digits of your card) to 09223966666 from your registered mobile number.
3. ICICI Bank – Send "INTL" to 5676766 from the registered mobile number to activate international transactions.
4. Axis bank
5. HDFC bank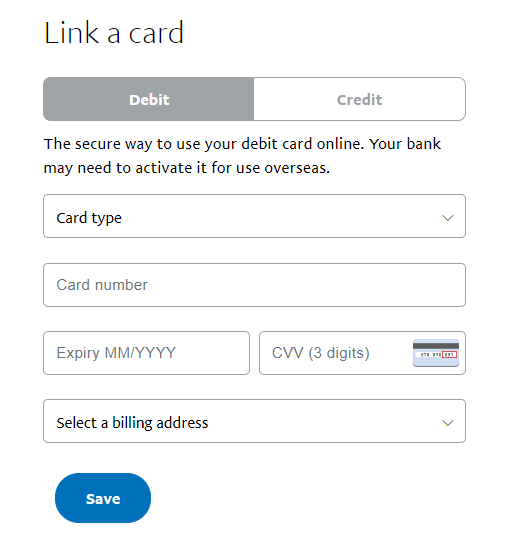 If you have a card from any of the banks mentioned above, Go ahead and link your card.
Auto withdrawal
Whenever you receive money it will be automatically withdrawn to your local bank account, you don't need to anything. If you are account balance is more than $10 dollars you can instantly request a withdrawal otherwise Paypal will automatically do that.
It would take about 2-7 days for Paypal to send your money but usually, you get that within one day.
When you are receiving payments there is no minimum limit for that. For example, I received an 11 cent payment from one space.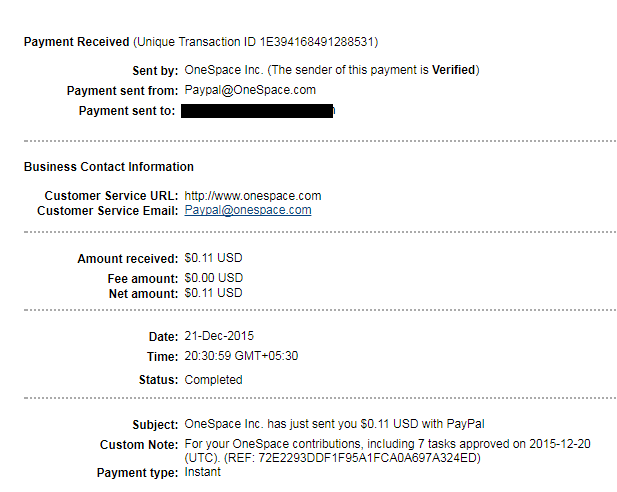 So no matter how much money you receive PayPal will automatically send that to your bank account.
After completing all these processes, this is what your account will look like.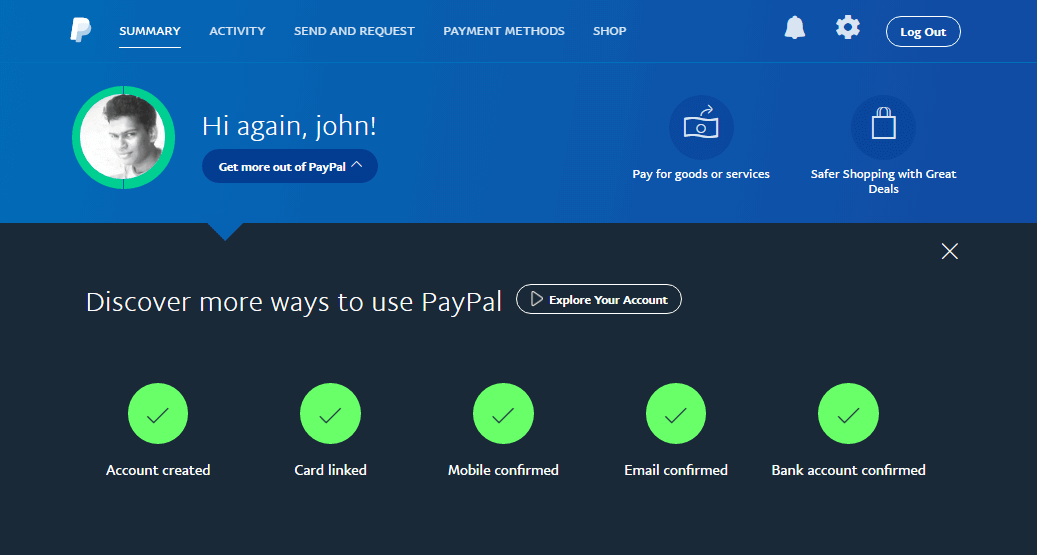 Once you make your account look like this, You just successfully created and verified your Paypal account.
I hope you find this article helpful and follow the same process to simply create a Paypal account.
If you need any help, ask them in the comments below.